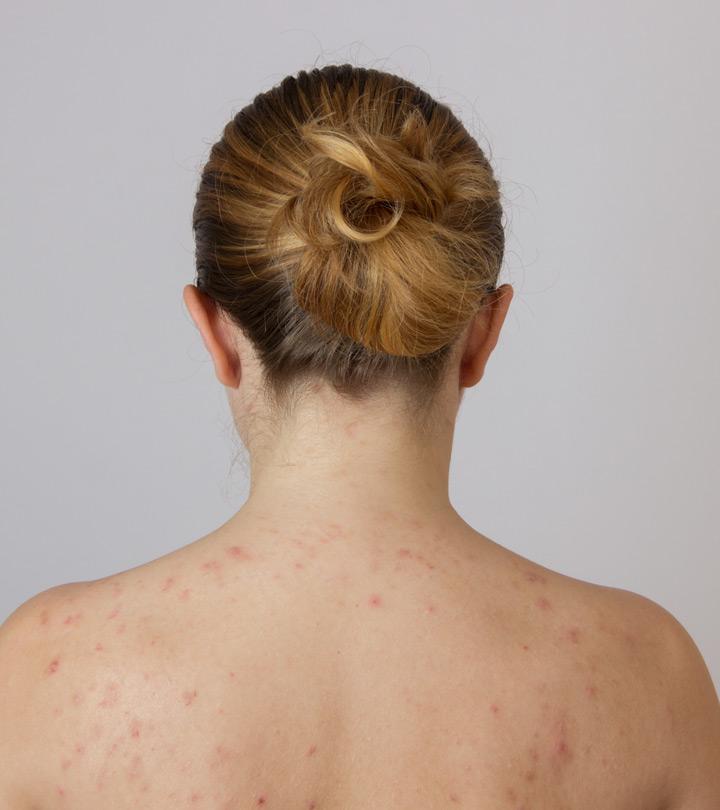 Many of us must be having some real small bumps on the back and may be near the shoulder. Such bumps similar to acne are commonly called asback acne or bacne. They are said to resemble very much like the regular acne and could possibly take several forms like pimples, blackheads and cysts. They also are said to be painful at times and could also include pus, especially due to the over oily glands.
Many of the doctors say that bacne occurs most of the time during puberty especially when the sebacous glands become more active during this period, thus blocking pores and hair follicles. This results in bacteria attraction, causing acne. They could make that spot quite red too.
What causes BACNE?
Answer:
Sebaceous glands secrete oil called sebum that makes the skin soft, supple and pliable. But during summer or harsh winters depending upon the skin type, sebum secretion increases or decreases respectively. This causes the bacne. Back acne is also caused by too much perspiration and sweating from exercise. This is also known to be the reason that aggravates the condition of your bacne.
In this article I have thoroughly researched and brought the remedies to "bacne". They are quite simple to follow and easy to put to use. Try for maximum benefits.
Here are the things you can do to prevent bacne:
1) Exfoliate your back skin using a gentle body scrubber. However, try not over scrub the area. You can make your own scrub by adding lots of salt and lots of sugar to olive oil or milk. Then you can scrub it with a loofah. However, keep in mind that scrubbing your back too hard will result in skin irritation and you could possibly be left with rashes and scars.
2) Comfortable, loose clothes in the summer maintain air circulation in your body making you sweat less. Cotton clothes are the best choice during summers and soft woolen during winter. Avoid wearing tight clothes as it gets difficult for the skin to breath. This will also help you reduce the risk of bacne. Cotton clothes otherwise are known to keep the skin calm, unlike the nylons. So when home tries wearing cotton.
3) After coming from gym or after any hectic, sweaty work, change your clothes immediately. You can also take a lukewarm water shower to keep the sweat and acne-causing bacteria of your body. Make sure to wear loose and comfortable clothes.
4) Be kind to your skin and use glycerin or milk or moisturizing cream based germ-killing soaps instead of using harsh, soapy soaps. Harsh soaps will strip the natural oils away, leaving your skin further complicated, dull and dry.
5) Wear clean clothes and try to wash your clothes with antibacterial detergents to keep germs away.
6) Always have a balanced diet. Try to drink lots of fruit juices and eat lots of green vegetables. Green vegetables are tasty when cooked properly. They will help maintain the desired body fats and acids, thus reducing the risk of bad fats spoiling the over all skin health.
7) Try to use products made of natural ingredients like neem, honey, lime, multani mitti and rosewater for your back. They will help you keep the oils balanced, thus reducing the risk of acne.
8) If you're having too much of bacne and nothing is working, probably, go and visit a reputed dermatologist as soon as possible. A good dermatologist is your best guide, always.
9) Tea tree oil is also good for treating bacne.
10) Aloe Vera gel can be used for your bacne to reduce the swelling and redness on your back.
11) Change your bed sheets, pillow covers frequently.